Welcome to Hart
Agricultural research and extension since 1982
Hart is South Australia's premier agronomic field site, managed by farmers and industry professionals to provide independent research that is timely, relevant and unbiased, as well as cutting edge and innovative.
Located between Blyth and Brinkworth in South Australia's Mid-North, Hart is situated on 40 hectares owned by the Hart Field-Site Group Inc.
Hart's event calendar begins with our annual Getting The Crop In seminar (March).
Our research program is then show-cased on site at our Winter Walk (July), main Field Day (September), and at our Spring Twilight Walk (October).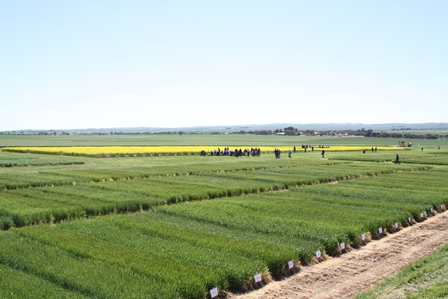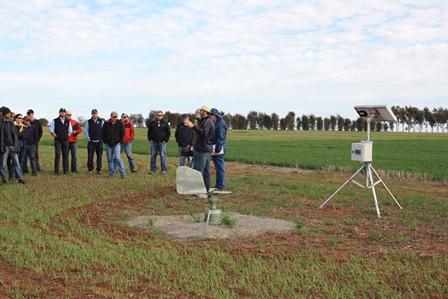 ---
WHAT'S NEW?

Getting The Crop In seminar - March 23rd (free event)
Watch this space for some post-event info which will include access to some of our speaker presentations.
HART TRIAL RESULTS
The full 2016 TRIAL RESULTS book is now available to download for free, either article or by article or as a full publication.
SPRAY WORKSHOP - April 3rd (free event)
Getting good weed control in standing stubble
See all the details on our OTHER EVENTS page, including how to register.
HART AGM - April 4th, 6pm
Have you considered joining the Hart board for a three year term?
We are a volunteer board of twelve with a wide range of skills, experience and backgrounds but all with a passion for agriculture. This year we are particularly seeking interest from members who are farmers and members that have skills in finance (maybe you tick both boxes!). Please enquire now or nominate by contacting our chairman Damien Sommerville or secretary Sandy Kimber via the CONTACT US page.
*If your skills / interests fall outside the areas mentioned there could still be a place for you, please get in touch.
ATTENTION EARLY CAREER FARMERS (0-8 years)
Join us for a three workshop series with specialist guest speakers covering weed ID & control, soil & crop nutrition and sustainable farming in practice. Includes a final day road trip. For more details see our flier on our OTHER EVENTS page. Registrations will open soon.
2017 REGIONAL INTERNSHIP IN APPLIED GRAINS RESEARCH
Congratulations to Dylan Bruce who's just joined the Hart team!
Hart long-term SEEDING SYSTEMS trial - a summary of 16 years of research
"Sixteen crops later this trial has remained one of the most popular in our program." Hart vice-chairman Justin Wundke.
Get your copy of this full colour, comprehensive booklet, including five very different farmer stories, when you attend the Hart Spring Twilight Walk on October 18th or download it here: HART LONG-TERM SEEDING SYSTEMS TRIAL
Your feedback
We've just undertaken a review of our 5 year strategic plan and one of our focuses for the next 12 months or so will be on you - to make sure we're meeting your expectations and delivering exactly what you need from us. We'll be providing opportunities for you to tell us what you think we do well, what you think we need to do better and what you think we've missed altogether. If you already have some thoughts you'd like to share we'd love to hear from you - all feedback will be greatfully received. PROVIDE FEEDBACK
Search the Hart website
Have you noticed the new search bar at the top right hand side of our website? We hope it you'll find it useful, particularly if you're researching trial results for a particular topic.
Social Media
You can find us on Facebook and Twitter. Click on the icons below.